Welcome to Sound Healing Meditation
Envision yourself in a state of restful repose, as resonant melodies emanate from exquisite crystal alchemy singing bowls. These harmonies stimulate your energy centers, promoting the clearing, opening, and activation of your entire energy field. Through this powerful sound therapy, you are brought into a heightened state of resonance and alignment with your authentic self and the universe at large. The most remarkable aspect of this experience is that you need only surrender and allow the sounds to work their magic while you unwind. With no exertion or strain, you can simply let the sounds do the work for you!
Individual Sound Healing Sessions
Individual Sound Therapy sessions provide a personalized healing experience that can be received while lying on a treatment table or sitting in a comfortable chair. Using powerful sound resonations, We aim to awaken deep healing potentials within your body-mind, promoting balance and harmony on multiple levels. These resonant vibrations can clear out old and outdated beliefs and emotions that may have been lodged in your energy field, restoring a healthy and balanced flow of energy. You can opt for a stand-alone sound healing session, or combine it with acupuncture and energy work to compound the healing effects. I tailor each session to your unique needs and intentions, providing a transformative experience that promotes deep relaxation, balance, and inner peace.
Couple Sound Healing Sessions
Couple Sound Healing sessions are designed for couples to receive together, typically in comfortable chairs, but with the option for one person to lie on a treatment table while the other sits in a chair. Through these heart and mind-opening sound resonations, couples can deepen their bond, heal deep interpersonal issues, and create space and awareness for growth. These unique sessions call in increased harmony for the couple, while also providing deep healing for each individual. If desired, acupuncture can be added to amplify the healing effects, or the sound resonations can be experienced on their own. Regardless of your preference, our Couple Sound Healing sessions offer a transformative experience that promotes deep connection, balance, and inner peace.
Individual or Couple Sound Healing Sessions
At the start of our session, we'll take a moment to discuss your intentions and desired outcomes. From there, you'll experience a profoundly relaxing, revitalizing sound healing treatment designed to help you find balance and restoration. This may involve sound therapy on its own, or in combination with acupuncture and medical qigong energy work.

Once your treatment is complete, we'll take time to debrief and reflect on your experience. I'll share any insights or suggested practices to help you continue your journey of healing and growth. You'll also have the opportunity to ask any questions or seek further clarification.
My holistic approach to healing combines the power of sound therapy, acupuncture, and medical qigong to help you achieve a state of deep relaxation, inner peace, and optimal wellness. Let's work together to unlock your body's natural ability to heal itself and cultivate a sense of balance and harmony in your life.
Request a Sound Healing Event in Your Space
Bring the transformative power of sound healing to your own space or event. Whether it's a company event, clinic, living room, healing event, meditation group, wedding, or couples. Invite the transformative power of sound healing to your next event or personal space with a Sound Healing Event. Whether it's for company events, clinics, living rooms, healing events, meditation groups, weddings, or couples, I can bring our healing sound vibrations to you. Using a variety of Crystal Tones singing bowls made of pure quartz crystal, I will lead a sonic healing meditation that activates your energetic centers and clears, opens, and activates your entire energy body. These multiple sounds work synergistically to bring you into higher resonance and alignment with your natural self and the universe. Contact Sumari Healing Arts for more details on how I can create a personalized sound healing experience for you and your group.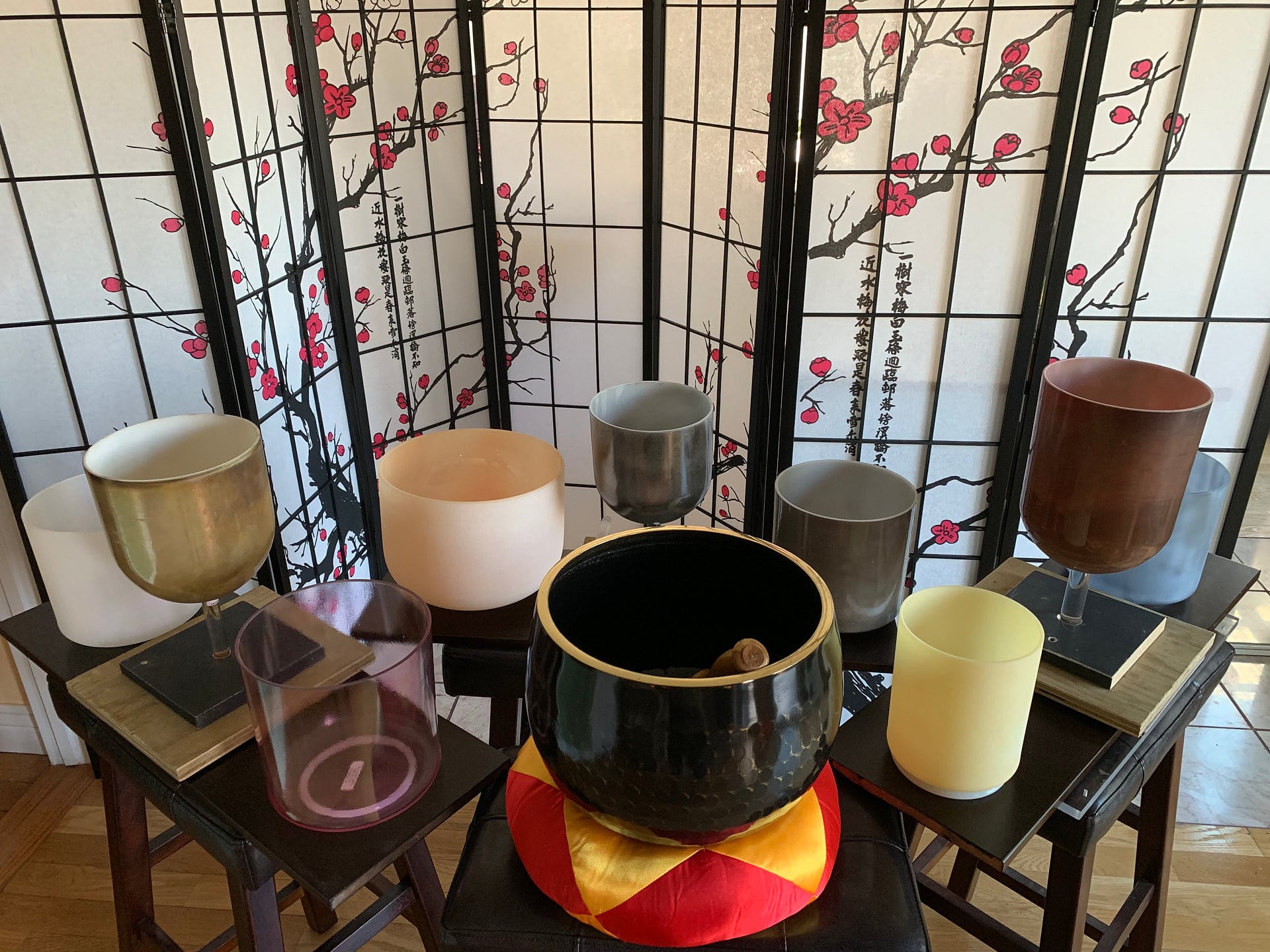 Crystal Tones Sound Healing Bowls & Tools
These crystal singing bowls are made of the highest quality (99.992% pure!) quartz crystal, making them incredibly resonant. The tones produced by crystal bowls are not just heard by the ear, you feel them in your body, with certain tones affecting your energy centers (chakras) for healing, balancing & meditation.
Crystal Tones' crystal singing bowls are made with a unique, patented manufacturing process which is available ONLY with these bowls. This process makes our bowls strong and incredibly pure in tone.
We are committed to offering the most innovative tools made with intention, thus offering our clients the best sound tools available anywhere.

All of these bowls are made ONLY with pure quartz crystal and the finest in gemstones and precious metals such as 24-karat gold, silver and platinum.
Crystal Tones Sound Healing Bowls & Tools are now available through Sumari Healing Arts Store!
What are the benefits of sound healing, meditation, energy work and acupuncture?
Feeling deeply relaxed yet energized
Deeper and more restful sleep
Reduced aches and pains
Reduced stress and tension
Reduced anxiety
Emotional regulation and well being
Motivation, inspiration, insight
Calmer more focused mind
Release of worries, cares, concerns
Sudden insights and solutions to issues and problems
Contacting deeper and vaster portions of the self
Rich inner journeys into the subconscious and beyond!